Take 11 illustrators and ask them to trasnfer theirs styles to a designer t-shirt collection.

Ready-to-wear illustrations for designer t-shirts
Of all art forms, illustration is undoubtedly the most in vogue.
Although based on the pictorial tradition of the past it is spreading to many expressions of contemporary culture: publishing of course, but also the web, advertising and gaming. Even interior design.
And clothing?
Well yes, of course: we also find it in clothing, especially T-shirts. But no one has ever offered something that combines the exclusivity of drawings with quality print and fabrics.
And then we wondered: why not open an online shop selling designer t-shirts? So we did.
Italian style never goes out of fashion
T-SHIRT.IT was born of the meeting of two passions: the GRAFFITI agency's passion for the web and the ILLUSTRI association's love of the art of design.
A spark was ignited between us a few years ago at the Illustri Festival in Vicenza, when we literally fell in love with the works of some of the best Italian illustrators.
We were drawn together by a love of design and typographic art, which we have now decided to promote through a space that is more than a simple e-shop; T-SHIRT.IT is the Italian e-shop par excellence dedicated to the best illustrated t-shirts. True cult objects, all Made in Italy.
10 illustrators,
10 stories to discover
They are the most sought-after, the most published, the winners of the most awards.
Their works are exhibited in some of Italy's major galleries but also abroad, where they work with prestigious magazines, publishers, museums, foundations and big international brands.
All of the illustrators invited to design our T-shirts have transferred their human and artistic journeys to fabric. This is why T-SHIRT.IT is not a store like any other, but an opportunity to discover the world of Italian illustration through the stories of its leading lights.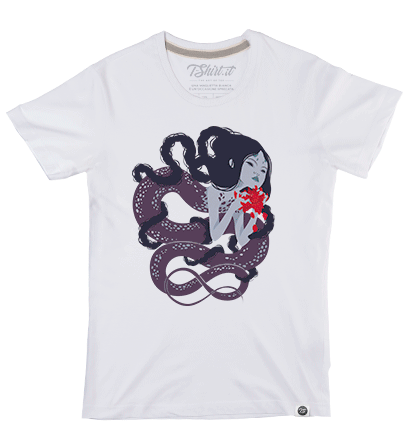 A white T-shirt is a wasted opportunity
That's how the simplest garment in the wardrobe became the perfect palette for the illustrators of T-SHIRT.IT.
To allow the artists free rein, we used our agency's know-how to select the finest fabrics and opted for a print process that would do justice to their illustrations.
Hence we chose screen-printing, which, unlike hot stamping or digital printing, yields sharper images and brilliant and dense colours even on dark fabrics.
Why admire a work of art when you can wear it?
Fresh out of the most important international exhibitions, the best of Italian illustration comes straight to your wardrobe.
Choose the illustrator who best represents your style and wear it: it can be humorous, minimalist, poetic or more introspective; it can range from figurative to abstract. It can be inspired by pop culture, vintage art, with freehand or vector-style illustrations.
Each T-shirt on T-SHIRT.IT is the result of a personal and therefore original journey. Original like you.