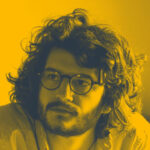 He works with ease as if he had been drawing for decades, thanks to a talent of which he appears unaware. 

Then you meet Matteo Berton, born in Pisa, 1988, and you can see that he works with such ease partly because he is such a methodical illustrator. An example? The travel notebooks that he always carries with him, ready to put on paper whatever catches his eye.
First and foremost, though, is his talent: a rare talent that allows him to draw with the naturalness of an illustrator of far greater experience, but of which Matteo himself does not yet seem fully aware.
Art, communication and design have always been his passion, and for some years also his profession. His drawings range from comic books to children's books to editorial and commercial illustrations.
But you just need to talk to other professionals or browse through his references to see that there is nothing ordinary about his career.
Among others he has worked for Fast Company, The New York Times, Timberland, Feltrinelli, La Pastèque, Eli Edizioni and Laterza.
He has won two gold medals from the Society of Illustrators of New York in the Editorial and Advertising categories. His works have been selected by American Illustrator and the Bologna Children's Book Fair.